ADVANCED ULTRASOUND THERAPY
-ULTRAFORMER III
SAVE MONEY
Affordable Anti-aging Treatments.
Less ongoing maintenance costs.
VIRTUALLY PAINLESS
Minimal skin irritation and discomfort.
Safest treatment process available.
BEST ADVICE
Find the same treatment for less, we will match the price and beat the service!
Ready to make an appointment for this treatment?

What is Ultraformer III?
Ultraformer III is a revolutionary non-surgical and non-invasive skin tightening treatment that works by stimulating your body's natural regenerative processes. It uses highly sophisticated Micro-Focused Ultrasound energy to rejuvenate the three critical levels of your skin's infrastructure. 
How does the procedure work?
Ultraformer III works with geometric precision. Micro-Focused Ultrasound sends bursts of finely tuned ultrasound energy to precise depths to stimulate regeneration. The target tissues are heated to the specific temperature required to induce 'thermal injury', which causes the collagen to contract, and then, over time, to produce new and stronger collagen. Ultraformer's Exact Focusing Technology ensures that the right depth is always targeted.
The Ultraformer III Macro & Micro Focused Ultrasound (MMFU) uses state-of-the-art ultrasonic waves to lift and tighten skin without injury to the skin surface.
MMFU-powered cartridges are designed to transfer both concentrated and stable ultrasound energy into the focal region. Built to emit an equal distribution of heat, the ULTRAFORMER III accurately targets broad or narrow areas of concern without damaging surrounding tissue during customised procedures.
The ultrasound waves generate heat to contract collagen and skin connective tissue down to the muscle level and also stimulate skin rejuvenation and regeneration.
Collagen renewal in the face triggered by HIFU involves heating the dermal and
superficial muscular aponeurotic system (SMAS) layers that undergo separate phases of blood coagulation,
wound contractions, and tighter shelving of new collagen to resolve the appearance of wrinkles and sagging skin.
Ultraformer III utilises ultrasound technology at its cleverest: with a probe that safely generates ultrasound when in contact with the skin surface with dual ultrasonic action resulting in the delivery of high-intensity ultrasound waves to a precise target depth in the skin.
The use of ultrasound makes it possible for the delivery of this energy while at the same time leaving the surface of the skin unaffected. As a result, tighter and firmer skin can be achieved with minimal downtime.
The Ultraformer III procedure usually lasts for up to sixty minutes, without sedation or general anaesthesia.
Post-operative, no special care is required and the patient can mostly resume their regular daily routine.
Typically, optimal results will start to become noticeable after two to three months, and last for well over a year.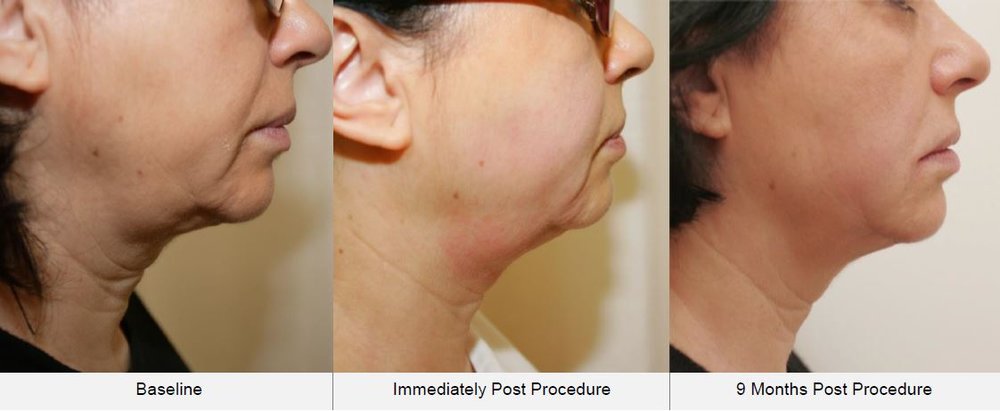 Ready to discover what smooth really feels like?
Still unsure? Get in touch for a free consultation.